Anastasia Chernikova
Media consultant, editor-in-chief of Vivid Minds, writer
About
Hello! I'm Anastasia (Nastya for short). I'm a journalist covering mental health and leadership for Fast Company, Forbes.com, Entrepreneur.com and other business outlets and a media consultant for tech companies. From interviewing Jan Koum, the Founder of WhatsApp right after he sold his messenger to Facebook for $18B to Vitalik Buterin who's reshaped the crypto scene as we know it, my work has taken me around the world from Moscow to New York City.
I'm based in Brooklyn, New York. In addition to my work as a journalist, I've helped organize some of the largest blockchain and fintech events in the US and Europe. In San Francisco and New York, I hosted conferences with leaders including Nick Szabo (some say he is Satoshi, but I have doubts), Michael Arrington (the founder of TechCrunch, who bid heavily on Ripple), Tim Draper (one of the early investors in Coinbase and Tesla), and more.
I'm also running Vivid Minds, a newsletter-driven media featuring leaders who overcome challenges yet proceed to move forward. I believe mental health and our well-being is one most important topic to talk about these days.
I've recently started a blog on Substack, where I introduce bold leaders and their mental health routines, plus share my rants about the tech world, writing as an immigrant and juggling between two languages while making a living in New York. Please support me by subscribing and let me know your thoughts!
ARTICLES AND PRESS

Brands
I sit on the advisory boards of tech companies and offer consulting on media and storytelling.
What I can help with:
– Media training: Emprowering clients to help them effectively communicate with the media, handle interviews, and manage media relationships.
– Business media landspace: Providing an overview of the specifics of various business outlets.
– How to build a media/blog inside your company: from developing a content grid to hiring editors and proofreaders.
– Crafting a story: Providing advice on how it's best to develop a story.
– Content strategy: Developing content strategies that align with your business goals.
– Personal brand: Where to pitch and write even from outside of the US.
– Impactful storytelling: How to develop an important story and make it seen.
– Identifying your news angles: How to understand what is the most newsworthy for your story.
– Data-driven pitch: How to use data effectively in your pitch.
– In-house media team: How to handle media presence in-house, without hiring a PR agency
– Online presence on social media: Dos and don'ts of promoting your brand.
– How writing can change your life as an entrepreneur.
Didn't find your question? Feel free to send it to me at ac@thevividminds.com, and I'll be in touch.
Vivid Minds
Vivid Minds is a newsletter-driven media website dedicated to stories about how leaders overcome challenges and move forward.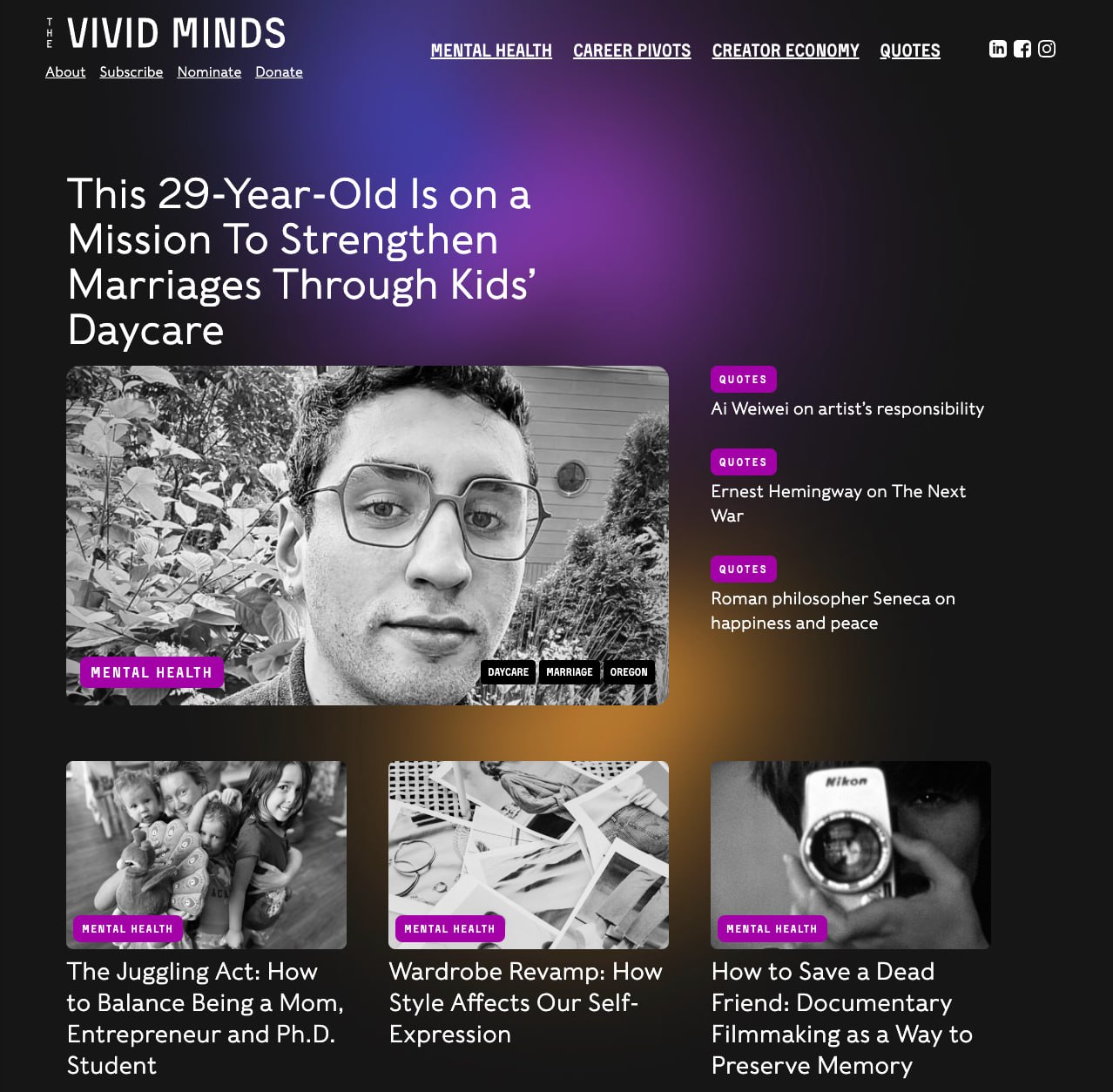 Subscribe to my newsletter