Anastasia Chernikova
Journalist, editor-in-chief of Vivid Minds, entrepreneur
About
Hello! I'm Anastasia (Nastya for short). I'm a journalist covering the world's top tech companies and entrepreneurs. From interviewing Jan Koum, the Founder of WhatsApp right after he sold his messenger to Facebook for $18B to Vitalik Buterin who's reshaped the crypto scene as we know it, my work has taken me around the world from Moscow to New York City.
I'm based in NYC covering technology, inspiring leaders, and mental health. In addition to my work as a journalist, I've helped organize some of the US's blockchain and FinTech events. In San Francisco and New York, I hosted conferences with leaders including Nick Szabo (some say he is Satoshi, but I have doubts), Michael Arrington (the founder of TechCrunch, who bid heavily on Ripple), Tim Draper (one of the investors in Coinbase and other cool companies), and more. My own event in Germany, called Blockchain Visionaire Summit, brought together 50 speakers, 300 attendees, 5 sponsors, and helped grow the European blockchain scene.
Currently, I'm the Editor in Chief of Vivid Minds, a newsletter-driven media platform featuring leaders who overcome challenges yet proceed to move forward and achieve. My passion lies in making others feel less alone in their bold moves and struggles through showcasing these accounts. I believe mental health and our well-being is one most important topic we should talk about these days.
I'm a frequent digital contributor and my stories have been featured in top-tier publications including Entrepreneur Magazine, Business Insider, Fast Company, Esquire, and others.
The Vivid Minds
Vivid Minds is a newsletter-driven media website dedicated to stories about how leaders overcome challenges and move forward.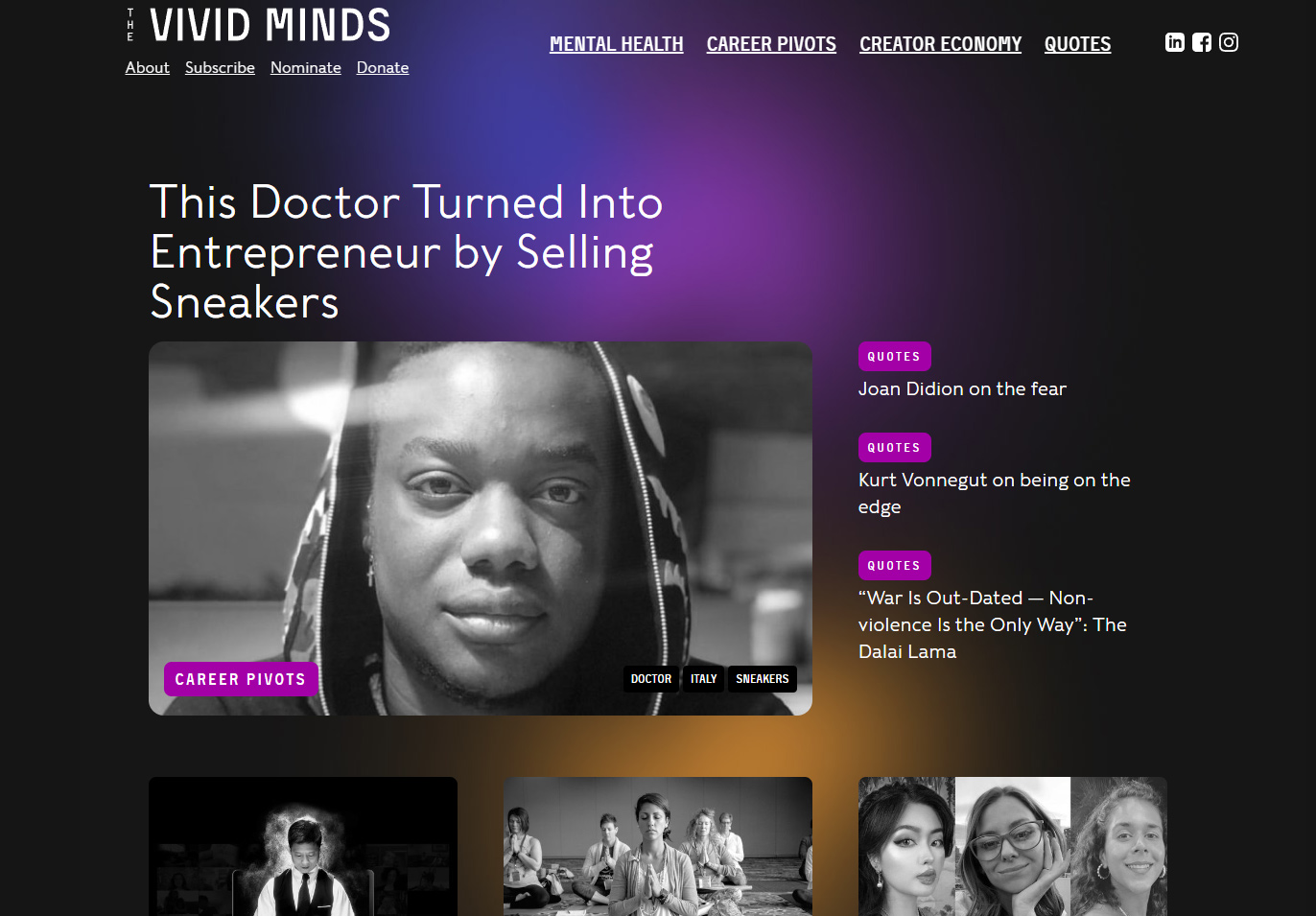 Subscribe to my newsletter
Brands
I have worked with various companies to help them figure out their messaging and storylines. Email me, DM on LinkedIn, Facebook, or Twitter to learn more.
You can book a 30 or 60 minute consultation by emailing me at ac@thevividminds.com.